Discover a land of cultural richness and physical beauty. Travel from Yangon to Mandalay, Bagan to Inle Lake stopping to explore the hidden gems in between. Get a comprehensive look at Myanmar's historic monuments, soak up stunning landscapes and be immersed in the rich culture.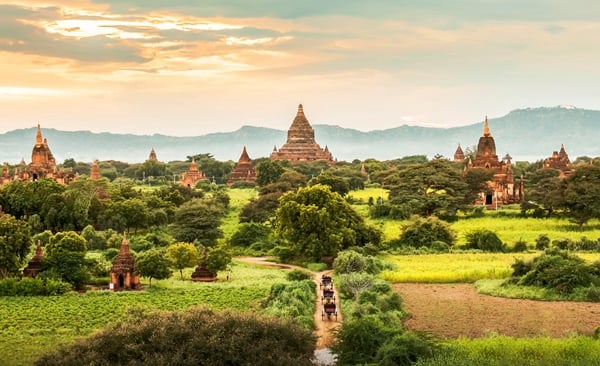 Travel overland from Mandalay to Bagan
Take a two-day journey to Bagan, crossing the Irrawaddy and Chindwin Rivers, passing by interesting landscapes and visiting the capital of Sagaing Region, Monywa.
Take a pilgrimage trip
Join local Buddhist devotees on a trip to Golden Rock, travelling by truck and on foot to this awe-inspiring site.
Admire the Shan State's beauty
Explore Inle Lake by boat, getting in touch with the fabulous culture on the riverbanks and enjoying the stunning landscapes.
1
Arrive Yangon
Yangon Airport to Yangon city centre (20 km): 30 – 60 mins
Upon arrival, meet with the guide and head to the hotel for check-in and a chance to freshen up.
Yangon, formerly known as Rangoon, is a relatively quiet and charming city. Its impressive colonial and spiritual heritage makes it one of the most fascinating cities in Southeast Asia.
After lunch, meet with the guide and head to Kyaukhtatgyi Pagoda, home to a 70-meter long reclining Buddha. A visit to Kyaukhtatgyi provides a great introduction to Myanmar's unique brand of Buddhism, with murals depicting the life of Buddha, the feet of the statue carved with traditional symbols and a great many locals gather here to pray.
Continue to a local tea shop for a chance to experience an integral part of Burmese life: drinking tea! Select from an array of snacks and enjoy a coffee or tea as while sitting amongst businessmen, friends and families who gather at the tea shop to socialize or conduct business.
Next, follow the guided tour to Kandawgyi Park, one of central Yangon's greenest spots. Here, witness the glittering Karaweik Barge, a replica of the Royal Barge, and the vast lake with views of Shwedagon Pagoda in the background. Depending on the day, Kandawgyi may be busy with local families who come on the weekends to relax and enjoy the fresh air.
From here, continue to Shwedagon Pagoda the most revered Buddhist temple in Myanmar. Although the origins of the pagoda are unclear, the locals believe that the original structure was built 2500 years ago and was then renovated several times before taking its current shape in the 15th century. The 8-sided central stupa is 99-meters tall, gilded with gold leaf, and is surrounded by 64 smaller stupas. Follow the guide's lead around the massive complex and learn why this temple is so revered among locals.
Overnight in Yangon.
2
Yangon – Kyaikhtiyo - Golden Rock
Yangon-Kyaikhtiyo (167 km): 4h
This morning the tour starts at 08:00.
Depart Yangon for a journey by road to Kyaikhtiyo and the Golden Rock.
Late morning, arrive at Kyaikhtiyo Base Camp (approximately 5 hrs). Travel by local, open-air truck along a winding road (45 minutes) and be dropped off a short five-minute walk from the Golden Rock. A huge boulder covered by gold leaf and delicately balanced on the edge of a cliff, Golden Rock is one of Myanmar's most important pilgrimage sites.  The pagoda here is said to hold a hair of the Buddha and Buddhist from across the country come here to pay homage. 
Overnight near Golden Rock.
3
Kyaikhtiyo - Bago - Yangon
Yangon-Bago (80 km): 2h
This morning there is the option to visit the Golden Rock again to see the rising sun casting its rays upon the rock. Starting before dawn, local pilgrims gather by the rock to make offerings in the solitude of the morning. It's a unique and memorable experience that's not to be missed. 
Today the journey continues at 08:00.
Return down to base camp by the same route on foot and by open-air truck. Then drive to Bago, the former capital of the Mon Kingdom.
The visit in Bago begins at a local market for a short walk amongst the colourful stalls selling flowers, produce, and spices. Then visit Shwethalyaung Temple, which houses a beautiful 55-meter long reclining Buddha, and the Mon-style Shwemawdaw Pagoda. Shwemawdaw is one of the most venerated pagodas in Myanmar. At 114 meters tall, it's even taller than Shwedagon Pagoda. Afterwards, visit a local Mon village nearby for a short walk through this quiet, typical rural village that was once famous for its silk weaving.
On the way back to Yangon, stop at the Allied War Cemetery near Htaukkyan. This beautiful, peaceful cemetery is the final resting place for over 27,000 Allied soldiers.
Overnight in Yangon.
4
Yangon - Heho - Inle Lake
Heho Airport to Nyaung Shwe (28 km): 45 minsNyaung Shwe Jetty to Hotel on Inle Lake (10 – 20 km): 30 – 60 mins
After early breakfast at the hotel, transfer to the airport for the flight to Heho.
From Heho, a scenic one-hour drive leads to Nyaung Shwe, the gateway village to Inle Lake. Along the way, stop at the wooden Shwe Yan Pyay Monastery which features beautiful carvings and a collection of Buddha images.
Upon reaching the edges of Inle Lake, board a private motorboat and head out to Inle Lake, one of Myanmar's most spectacular sights. Pass villages built on stilts over the lake, inhabited by local Intha people. Observe the famous leg-rowing fishermen and see their floating gardens built up from strips of water hyacinth and mud and anchored to the bottom with bamboo poles. Visit Phaung Daw Oo Pagoda, the lake's main sanctuary, which contains five sacred Buddha images covered in gold leaf. 
OPTIONAL ACTIVITY: Prepare lunch with a local family- This cooking course is a fun and interesting way to learn about the traditional flavors and preparation techniques of Burmese cuisine.  Join a local Inthar family in their kitchen to cook local dishes then sit on the floor at a round table and dine in the local way. Minimum 2 persons
Peruse the local crafts of Inle Lake with a stop at the weaving village of Inpawkhone and a cheroot factory, where traditional Burmese cigars are made by hand.
If time permits, there may be time to enjoy a short walk through one of the lakeside villages.
Overnight on Inle Lake.
5
Inle Lake - In Dein - Inle Lake
This morning the sightseeing begins at 08:00.
Visit the lake's bustling morning market for unique insight into the local cultures of the area. The market rotates its location every day in 5-day cycles.  Villagers from the surrounding hill tribes come to the market to sell and trade their wares -making it the perfect place to witness the uniquely diverse population of people in Inle Lake's surrounding areas all in the same place. (Note: the market is daily except on dark moon day and full moon day).
From the middle of the lake, continue down a small canal leading to the village of Indein.  Explore the area on foot and wander through the beautiful Alaung Sitthou area.  From here, climb the covered stairway to the top of a hill covered with picturesque ancient stupas. Enjoy magnificent views of the lake below from this vantage point.
After enjoying the visit to Indein, return to the boat. Continue along the lake for additional sightseeing before returning to the hotel in the afternoon.   
Overnight Inle Lake.
6
Inle Lake - Heho - Mandalay
Mandalay Airport to Mandalay city centre (41 km): 60 mins
Enjoy breakfast and a leisurely morning at the hotel.
OPTIONAL ACTIVITY: Biking and Wine Tasting- Bike from Nyaung Shwe to Red Mountain Estate, a winery tucked away in the cool Shan Hills. The ride follows quiet, flat roads (around 5-10km depending on hotel location) past farms and villages. Reach the winery and enjoy an optional wine tasting. Afterwards, return back to the hotel. (Note: Maximum 10 persons due to bike availability)
Around midday, transfer to Heho Airport for the 1.5 hour flight to Mandalay. Upon arrival, a car and guide will be waiting for transfer to the hotel (approximately 1 hour drive).
Overnight in Mandalay.
7
Mandalay - Sagaing – Ava- Amarapura - Mandalay
Mandalay-Amarapura (13 km): 30 minsMandalay-Sagaing (21 km): 50 mins
This morning the tour starts at 08:00.
Depart for an excursion to the outskirts of Mandalay to explore the former capitals of Ava, Sagaing, and Amarapura.
First, cross a bridge over the Irrawaddy River to Sagaing. Covered with 600 white-painted pagodas and monasteries, Sagaing Hill is widely regarded as the religious center of Myanmar.  It is home to more than 3,000 monks and 100 meditation centers. Visit Swan Oo Pon Nya Shin and U Min Thone Sae Pagodas for a glimpse into the unique environment of this area.
Then, pay a visit to Sagaing's local market, a typical Burmese market that few tourists frequent. Discover a range of items for sale including locally made pottery, silver, and other handicrafts. Also stop at a small pottery village to see the process of making the ubiquitous water pots found throughout Myanmar.
Then continue south of the city to Ava, Myanmar's capital from 14th to 18th centuries. A short ferry ride across the river drops off at the station where a horse and carriage will be waiting. Visit the old wooden Bagaya Monastery and the remains of the Royal Palace and Fort. There are many small villages located amid Ava's ruins as well. Travelling by horse and cart is the perfect way to witness the unique local life in this rural area.
On the way back to Mandalay, stop at Amarapura, a former capital whose name means 'City of Immortality'. First visit a silk weaving workshop which produces exquisite handmade products. After touring this tranquil site, continue to the iconic U Bein Bridge. The bridge was constructed from 984 teak posts that were once part of the deserted Inwa Palace and is 1.2 kilometers in length -making it the world's longest teakwood construction. Enjoy a stroll along the bridge and the fabulous views of the surrounding lake and farms.
Return to Mandalay late in the afternoon.           
Overnight in Mandalay.
8
Mandalay - Mingun - Mandalay
Today the sightseeing begins at 08:00.
Transfer to the Mandalay jetty and board a private local boat for a 1-hr cruise on the Irrawaddy River to Mingun.
Visit the main sites of Mingun beginning with the famous Mingun Pahtodawgyi.  This huge brick structure was left unfinished after an astrologer predicted the King would die should the temple be completed.  In the 1800s, an earthquake left several large cracks in the structure.  Continue on to the beautiful Hsinbyume Pagoda, whose distinctive style is meant to resemble the mythical Mount Meru.  Then, see the Mingun Bell which, weighing in at more than 90 tons, is considered the world's largest uncracked ringing bell.
Return to Mandalay by boat and enjoy lunch at a local restaurant.
Next, visit Mahamuni Pagoda. This pagoda is home to one of the country's most revered Buddha image which, over the years, has been covered with metres of gold leaf, giving it a distinct 'lumpy' texture. This is the perfect place to witness Burmese culture in action, as a great number of locals come to pay their respects and earn merit.
Mandalay is well-known for its skilled craftsmen. After Mahamuni Pagoda, tour some of the city's traditional workshops, and learn about the city's unique cottage industry.  Observe the production of wood carvings, kalaga tapestries, and gold-leaf using techniques that have remained unchanged for centuries. 
OPTIONAL ACTIVITY: Make a marionette- Join local craftsmen at their workshop and create a unique traditional puppet. A hands-on way to learn about the local culture and create a memorable, personalized souvenir!  
Continue the tour of Mandalay with a visit to Kuthodaw Pagoda, whose 729 marble stone slabs of Buddhist scriptures have earned it the title being home to the 'World's Biggest Book'.  Continue to Shwenandaw Monastery, the only remaining building from the 19th century Royal Palace. This grand teakwood building is known for its exquisite woodcarving.
Afterwards, there's an option head to the top of Mandalay Hill -the highest point in the city. From this vantage point, get amazing views of the city below as the sun sets.
Overnight in Mandalay.
9
Mandalay – Monywa
Mandalay-Monywa (100 km): 3h
Today the tour starts at 08:00.
Depart Mandalay in the morning for a 3-hour drive to Monywa, a typical Burmese town on the banks of the Chindwin River, making a few rest stops along the way to for stretching and snapping photos.
Arrive in Monywa mid-day and check into the hotel. Take time to freshen up before beginning a sightseeing tour around Monywa. (Lunch will be at the hotel or in town) (Client's account)
In the afternoon, begin with a visit to Thanboddhay Pagoda, a huge Buddhist temple covered with more than 500,000 Buddha images. Then stop at Boditahtaung Pagoda, which houses the largest reclining Buddha image in Myanmar -100m in length. If that isn't impressive enough, nearby is the largest standing Buddha in the world, Laykyun Setkyar, at 129 metres in height.
Having explored the sites and scenes of Monywa, head to the banks of the river to watch the sun set.
Return to the hotel in the evening. 
Overnight in Monywa.
10
Monywa – Po Win Taung – Pakkoku – Bagan
Monywa-Pho Win Taung (24 km): 45 minsMonywa-Pakokku (115 km): 2h30minsPakokku-Bagan (42 km): 2h
This morning the journey continues at 08:00.
Depart Monywa after breakfast and proceed to Po Win Taung (approximately 1 hour drive). This extraordinary complex consists of 947 sandstone caves dug out of the hills and contains what is considered by archaeologists to be the richest collection of mural paintings and Buddhist statues in Southeast Asia.
After visiting Po Win Taung, continue a few hundred meters away to Shwe Ba Taung.  Spend time exploring this interesting site where monasteries and temples are carved out of rocky narrow cliffs.
Then continue down the 'road less traveled' for another 90 minutes, passing traditional villages where farmers can often be seen climbing palm trees to extract juice for palm tree sugar production. Stop at Kyet Su Kin Village for an opportunity to learn more about the lifestyle and culture of the countryside residents.
Then, resume the journey to Pakokku (115km), arriving in time for lunch at a local restaurant (client's account).
Proceed to the jetty and board a private local boat in Pakkoku for a leisurely, two-hour cruise downriver to Bagan. Upon reaching the shores of Bagan, transfer to the hotel.
Overnight in Bagan.
11
Bagan
Today's excursion starts at 08:00 with a visit to a range of sites, providing a great overview of Bagan's history, culture and lifestyles.
The journey begins at an elevated viewpoint with spectacular views over the surrounding plains. This is the perfect introduction to the grandeur and scope of Bagan's architecture. Next continue to Ananda Temple, one of the most revered temples in Bagan and which is quiet in the morning, before all the tour buses arrive.
Afterwards, head to Myinkaba Village and Gubyaukgyi Temple, the latter of which is noted for the beautiful mural paintings on its inner walls and well-preserved plaster carvings on its exterior. Nearby is Manuha Temple and Nan Paya Temple, two smaller temples with nice Buddha statues and stone work.
Then learn more about the local culture with a visit to two workshops producing Bagan's most famous products: lacquerware and wood crafts. Watch as the skilled craftsmen use techniques passed down through generations to create beautiful items.
Take a break for lunch (client's account) and return to the hotel for a short rest, escaping the extreme heat of the midday sun.
Late in the afternoon, take a relaxing horse cart ride through the temple area, passing many monuments, farms and traditional houses along the way. Wrap the day up with a stop at an elevated  viewpoint for a spectacular sunset over the plains. Afterwards, return back to the hotel.
Overnight in Bagan.
12
Bagan – Optional Trips
Today there are three excursions to choose from depending on preferences.
Swe Daw Lay Su Legendary Tour: Discover one of Bagan's most famous legends while following in the footsteps of King Anawrahta and his precious white elephant. By boat, car and jeep, visit four auspicious sites and travel amid rural villages in a journey that brings the legend to life, all while getting an intimate look at Burmese local life.
Excursion to Mount Popa & Salay: Take a break from temple touring in Bagan to visit Mount Popa and Salay. Start with a drive to Chauk and visit a fabulous morning market filled with locals buying and selling their goods. Continue on to the village of Salay, an important Buddhist centre, and visit its famed wooden monastery with intricate carvings. Turn east and head through the countryside to Mount Popa, an extinct volcano which is believed to be home to 'Nats', or ancient Burmese animist spirits.  Climb to the top for stunning views of the surrounding countryside before heading back down to Bagan. (Note: Salay monastery museum closed on Mondays, Tuesdays and public holidays)
Biking + Community Tour: Experience rural Myanmar, its culture and traditions, by bike. Wind through temples and villages, stopping to enjoy tea and chat with the locals along the way. After lunch in a local curry house, continue to Nyaung U. Join the locals at a tea shop, see the production of Bagan specialties such as pea paste powder and plum jam, and watch craftsmen at work.
Overnight in Bagan.
13
Bagan - Yangon
After breakfast in the morning, transfer to the Nyaung U Airport for the flight to Yangon. Upon arrival, be greeted by the guide and driver and transfer to the hotel for check in.
After freshening up, venture downtown to explore the city centre and its fabulous mix of architecture and sites. The streets are filled with historical buildings, many of which have a faded colonial charm not seen elsewhere in Asia. Start at the post office – a lovely historic building- and walk to Sule Paya Pagoda in the middle of downtown, passing by the Strand Hotel, Mahabandoola Garden and Independence Monument along the way. Then visit Little India and Chinatown, a colourful cacophony of restaurants, temples and markets that offer insight into an entirely different side of Burmese society. Reach Bogyoke Market, formerly known as Scott's Market, where there is time to browse through the dozens of stalls and shops. This is Yangon's best market for handicrafts and other goods, so be sure to pick up a souvenir or two while there!  (Note: Market is closed on Mondays and on public holidays).
Overnight in Yangon.
14
Depart Yangon
Spend the day at leisure until transferring to the airport for the onward flight. If time allows, we suggest joining one of our optional tours.
Circle Train: Transfer to Yangon Railway Station to take the local Circular Train journey to the outskirts of town (20-30 minutes ride). The slow-traveling train gives a unique opportunity to observe the lively and colorful life of the rural Burmese people.  Disembark to visit Kyi Myin Daing Market where a variety of street vendors sell colorful wares. Enjoy exploring the market and meeting friendly locals before returning by road to Yangon.
Blessings Trail: Discover the rich mixture of cultures and religions in Yangon with this half day walking tour. Visit Hindu Temples, Synagogues, Churches and Mosques as well as unique Burmese spiritual places including Nat shrines and fortune tellers. Along the way, take time explore markets, tea shops and other lively local sites in the busy downtown area as well.
Yangon for Foodies: Get a taste for Burmese food and culture with our half day guided 'Yangon for Foodies' tour. Visit some of the city's best fresh markets, sample tasty treats, sip a cuppa with locals in a tea shop and enjoy a traditional curry lunch. From the sweet (fried donuts) to the strange (fermented tea leaf salad), try all the weird and wonderful culinary creations of Burmese cuisine! (Lunch included)
Pilgrimage Tour: Trace the path of a Yangon legend that stretches back 2000 years on a guided Pilgrimage Tour. Visit three stupas where, many years ago, sacred Buddha relics, brought from India, were enshrined by two merchant brothers. Join local pilgrims on this fascinating spiritual journey. (Note: although this program visits Shwedagon Pagoda again, we will visit it in the morning when the activities, atmosphere, and experience is very different from in the evening.)
Art Gallery Tour: Explore traditional and modern Burmese art with a guided tour of Yangon's art scene. Visit a selection of local galleries displaying paintings, sculptures and photographs from famous art pioneers and emerging young artists. Enjoy a cocktail at the House of Memories Restaurant, a historic building once used as a headquarters for the country's independence movement which contains many remnants from this era including General Aung San's typewriter.
Our services include:
13 night's accommodation in a shared twin room or shared double room with daily breakfast
Meals as mentioned in the program (B = breakfast, L = Lunch, D = Dinner)
English-speaking guide station guides (1 guide per location)
All transfers and excursions with private air-conditioned vehicles with drivers except in Kyaikhtiyo (transfers by open non-air-conditioned vehicles)
Horse cart tour in Ava & Bagan
Private local boat for Mingun excursion, from Pakkoku to Bagan and for Inle Lake excursions
Choice of excursions on day 12
Porter fees at airports
Entrance fees for the visits mentioned in the program
Drinking water while touring
Our services do not include:
International ticket to/from Yangon
Domestic flights (rate: please refer to our flight tariffs)
Meals other than mentioned (B = Breakfast, L = Lunch, D = Dinner)
Visa arrangements for Myanmar
Fuel Surcharge for domestic flights
Visits not mentioned in the program
Drinks and personal expenses
Tips and porters at the hotels
Credit card fees (2-3%) or bank transfer fees for non-cash payments
Any other items not mentioned
Not quite right or still need some more inspiration? Take a look at the journeys below and discover what other people who liked this tour also looked at!
Thailand-Myanmar Overland
WWII history of Kanchanburi
Visit Kamphangphet Historical Park
Nature at Lan Sang and Taksin National Park
Ancient pagodas and churches of Mawlamyine
Circle train ride through Yangon
The Legend of Pila Island - Mergui Archipelago
Barefoot luxury at Awei Pila Resort
Panoramic views of the Mergui Archipelago
Eco-friendly stay that protects the environment
Indulge in pampering spa treatments
Snorkel or dive the surrounding waters
Myitkyina and Kachin State
Discover Kachin culture
Visit Myitkyina's highlights
Cruise the Myit Sone confluence
See Kachin traditional weaving
Meet local blacksmiths
The Mighty Mekong, Asia's Lifeblood
Trace the path of the Mekong
Marvel at Laos' UNESCO wonders
Meet Myanmar's ethnic hill tribes
Capture a taste of Cambodia's culture
Discover hidden corners of Asia
Southeast Asia's Spiritual Path
Give alms to Laos' monks
Wander amid the Angkor temples
Admire dazzling Shwedagon Pagoda
Bike historic Chiang Mai
Explore ancient Bagan
Family Multi-Activities Adventure
Bike Yangon's vibrant suburbs
Swim with Asian Elephants
Spend a night in a local house
Trek to hill tribe villages
Kayak through Inle's villages