See the best of the Mekong Delta while cruising pass riverside communities and markets of Vietnam. Then, explore the fast-changing cityscapes of Phnom Penh where its tragic history and recent rapid development beckons every curious traveller.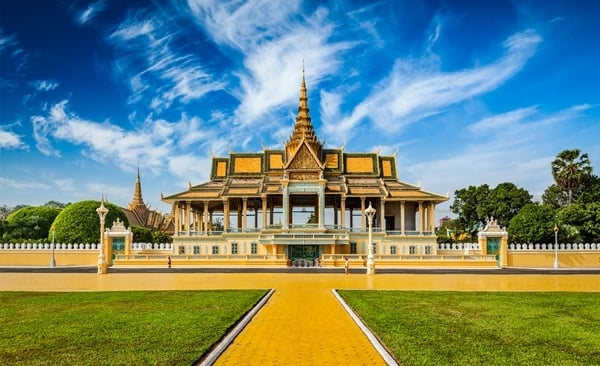 Get deep into the Delta
Spend three days exploring Vietnam's Mekong Delta, an immersive look at the ways of life of its residents.
Experience the local culture
See a blend of ethnic groups, meet skilled craftsmen and travel by local transportation for an authentic Mekong Delta experience.
Discover Phnom Penh
Take insightful tours of the Cambodian capital to learn its ancient history, tragic recent past and current rapid developments.
1
Ho Chi Minh City – Cai Be – Can Tho
HCMC to Cai Be (100km): 2 hoursCai Be - Can Tho (180km): 4 hours
Leave the busy streets of Ho Chi Minh City and drive deep into the Mekong Delta on this Cai Be day tour. Upon arriving in Cai Be, disembark the boat when reaching Tan Phong Island and start a very interesting cycling tour surrounded by nature through small villages and narrow roads. Ride along the pathways and take the opportunity to visit local families making traditional products such as handicraft items made from water hyacinth, roofs made from palm leaves, hammocks made from coconut ropes, and rice papers.
Enjoy lunch with specialties of the Mekong Delta in the ambience of an ancient house. After lunch,
walk through narrow lanes of a local market to enjoy the hustle and bustle before getting on board and continue cruising on the Mekong River, witness everyday life in the watery world passing by while sampling local fresh fruits. Leave the boat for a while to visit local businesses such as family-run rice wine making and rice mill factory and interact with the host learning about their daily lives.
Following the cruise, in the late afternoon, continue by vehicle and drive to Can Tho. 
Overnight in Can Tho City.
2
Can Tho – Chau Doc
Can Tho to Chau Doc (120 Km): 2.5 hours
Wake up early for a breakfast cruise to the colorful Cai Rang floating market which bustles with wholesalers on big boats. Here, during the early morning market hours, larger sized boats anchor and create lanes that smaller boats weave in and out of. The main items sold here are fruit and vegetables and every boat has a long upright pole at its bow from which samples of the goods for sale are hung. The waterway becomes a maze of hundreds of boats packed with mango, bananas, papaya, pineapple, and even floating pho vendors.
Following the visit to Cai Rang and Can Tho depart for the 3-hour drive to Chau Doc.
The rest of the evening at leisure.
 Overnight in Chau Doc.
3
Chau Doc
Routes can change subject to client's interest.
After breakfast visit Chau Doc's local market which overlooks the confluence of three rivers, and later take a boat to Chau Giang District where a tiny mosque serves the local Cham community. The Cham minority who dominated coastal Vietnam from the 2nd to the 9th centuries were originally Hindu, but became Muslim as a result of contact with Arab seafarers and merchants in the Middle Ages. In Southeast Asia Islam was disseminated primarily by merchants who, following the monsoon winds, lived in various coastal towns for months at a time. The Chams also practice silk weaving and have the opportunity to see them at work. The architecture here is rather distinctive.
Visit a beautiful Khmer temple, and later the floating houses that double as catfish farms, now a huge industry for the country.
Late this afternoon visit Sam Mountain, an important pilgrimage site that is frequently visited by pilgrims from all over the Mekong Delta. There are dozens of pagodas and temples around Sam Mountain and reaching the peak is the highlight of the visit. The views from the top are spectacular (weather permitting) and can easily look out over Cambodia.
Overnight in Chau Doc.
4
Chau Doc - Phnom Penh Arrival
Phnom Penh Airport Phnom Penh (11 km): 20 mins
Upon arrival in Phnom Penh around 12:00pm, be welcomed by the local English speaking guide and be accompanied to the hotel for check-in.
Phnom Penh was once considered one of the most beautiful cities in the Orient, and despite its turbulent history and recent development, it still retains much colonial charm. Cambodia's capital is a bustling city, majestically located at the confluence of the mighty rivers of the Mekong and Tonlé Sap. Wide tree-lined boulevards and many colonial-era buildings reflect the glorious days and add to the allure of the city, where Asian and Western traditions meet in a fascinating way.
After a relaxing break, be greeted by a driver and be taken on a tour to the most remarkable sights of Phnom Penh in a cyclo, an original Phnom Penh means of transportation and a fun way to explore this lively city.
First, head to Wat Phnom temple, the founding place of the city on a small hilltop. Then continue along the riverfront to the Royal Palace. This palace dates back to 1866 and houses the Silver Pagoda, named for the over 5000 heavy silver tiles that cover its floors. Its original name is Wat Prakeo, meaning Temple of the Emerald Buddha. In this temple see a collection of Buddhas in gold, silver, crystal, and bronze.
The next stop is the National Museum, which was built in traditional Khmer style. It houses the world's foremost collection of ancient Khmer artistic, archaeological, and religious artifacts from prehistory to the 17th century. Over 5,000 pieces are on display, constituting the repository of the Kingdom's cultural wealth. In addition, the roof space is home to a large bat colony!
Late afternoon, enjoy an atmospheric sunset river cruise and watch how Phnom Penh's popular riverfront comes to life in the early evening, with a coconut juice degustation on board.
This evening indulge in a welcome dinner at Bopha Phnom Penh Titanic, the kitchen serves tasty Khmer (and Western) cuisine on a breezy terrace with sweeping river views.
Overnight in Phnom Penh.
5
Phnom Penh
This morning, gain insight into Cambodia's recent dark history on a visit to the remarkable Tuol Sleng Genocide Museum, housed in the former school that was taken over by the Khmer Rouge and used as its main detention and torture center named 'S-21'.  (Note: All visitors to Toul Sleng Genocide Museum in Phnom Penh are required to wear modest clothing: no short pants or short skirts (knees must be covered) and no sleeveless shirts (shoulders must be covered). See-through clothing will also not be allowed. VIsitors who are inappropriately dressed will not be allowed to visit the museum.)
Spend the rest of the morning browsing through the colorful markets of Phnom Penh. Visit the Russian Market, the best place in the city for wood and stone carvings, jewellery, clothes and Cambodian silk souvenirs.
Spend the afternoon at leisure.
This evening, get picked by ramork, a Cambodian tuktuk, for a night to remember. On this Phnom Penh night tour, there is the chance to experience Cambodian cuisine, delicious cocktails, and local beer, while experiencing the unique nightlife that this vibrant capital city has to offer.
Start off the night at a chic riverside bar for cocktails, get to know the tour guide and kick off an evening of dining and exploring Phnom Penh. After cocktails, hop back into the ramork and join the locals in the bustling street traffic.
The next stop is a popular local restaurant with a charming atmosphere and welcoming Khmer hospitality. Try some delectable local cuisine, including lemongrass chicken and eggplant with pork, sharing the dishes Khmer style with a beer or soft drink.
After enjoying the meal, hop back in the ramork and visit a fresh market where locals pick up their groceries for the following day's meals. Before walking through the market, stop at a shop selling herb-infused rice whiskey. There are several varieties, each of which offers a different medicinal remedy.
Along the way to the elegant after-dinner cocktail venue, ride past some of the famous sights of French-colonial Phnom Penh and stop at a beautiful monument for a brief story about the history of the city. Next up: drinks at one of Cambodia's most legendary watering holes. (Note: while there is no dress code, guests may feel more comfortable wearing a smart-casual top over a singlet/tank-top.)
Zoom through the city lights once again, headed for a popular spot amongst locals for live music and late night dining. With a mix of top Cambodian songs and foreign rock hits, one is bound to stay entertained while sampling some exotic local delicacies, such as spicy frog and beef with ants. After stopping off at one more iconic city landmark along the way, finish the evening at a charming street of small, hip bars for cocktails or a cold beer.
Overnight in Phnom Penh.
6
Phnom Penh - Departure
Enjoy the day at leisure. Transfer to the airport for the onward departure flight.
Our services include:
Accommodation in a shared twin or shared double room
Meals as mentioned (B= Breakfast, L= Lunch, D= Dinner)
English speaking guide (for other languages and a national guide supplements apply)
French speaking guide in Vietnam (for other languages and a national guide supplements apply)
Tours and transfers as mentioned by private air conditioned vehicle
Entrance fees for mentioned visits
Boat trips as mentioned in the itinerary
Daily drinking water
Our services do not include:
Visa for Cambodia (Visa issued on arrival for most nationalities, USD 30/pax, please bring 1 passport photo).
Other meals than mentioned
International and domestic flights (quoted separately)
Camera/video entrance fees if applicable
Personal expenses (drinks, laundry, telephone, tips etc)
Travel insurance including recommended helicopter evacuation for Cambodia
Other services not clearly indicated in the package inclusions above
Not quite right or still need some more inspiration? Take a look at the journeys below and discover what other people who liked this tour also looked at!
Discover Vietnam's Central Highlands 4 Days
Discover Vietnam's ethnic groups
Sleep in a hilltribe village
See ancient customs and rituals
Get a glimpse of each individual elephant's personality
Explore highland landscapes
Discover Vietnam's Central Highlands
Discover Vietnam's ethnic groups
Sleep in a hilltribe village
See ancient customs and rituals
Get a glimpse of each individual elephant's personality
Explore highland landscapes
Authentic experience of Thai ethnic cultural minority
Relaxing traditional herbal massage
Trek in stunning landscapes and remote Mai Chau
From the Mountains to the Sea in Style
Sunset over Mount Phousi
Wine and dine at fine restaurants
Ethnic groups of northern Laos
Ancient Angkor Temples
Beach break in south Cambodia
Scenic drive past mountains & fertile valleys
Trek through Cham River suspension bridge
Stunning views of Karst rock formations
Homestay in traditional stilt house
Traditional bamboo river rafting
Vietnam's World Heritage in Style
Ancient sites of Hanoi city
Walk through Hanoi's Old Quarter
Explore peaceful Trang An
Climb Bich Dong Pagoda
Overnight cruise through Halong Bay