Go behind the scenes of Thailand's tourist façade and discover the true heartbeat of this fascinating country. See the highlights of Bangkok, Chiang Mai, Kanchanaburi and Ayutthaya and then take a closer look, meeting with locals, exploring hidden corners and capturing the essence of Thailand's rich cultural fabric.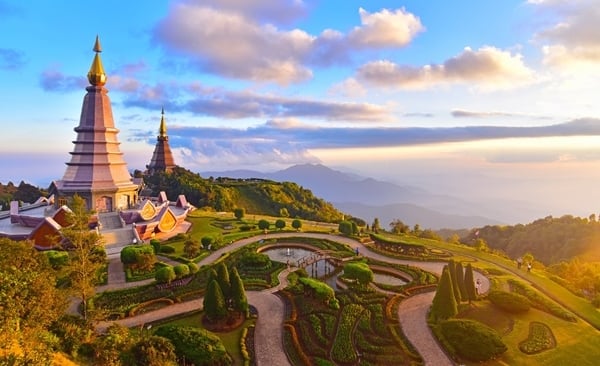 Get an in-depth look at Bangkok
Explore hidden street markets, bike through historic neighbourhoods and dine at local favourites for a better understanding of the capital.
Explore Kanchanaburi's outskirts
Spend a full day outside of the town, visiting a remarkable elephant sanctuary and biking through rural villages.
See Chiang Mai's quieter side
Cycle around a 'lost city', trek in Doi Inthanon National Park and explore villages along the Ping River's edge.
1
Bangkok - Arrival
Bangkok Suvarnabhumi Airport – Bangkok Hotel (approx. 30 – 40 km): approx. 50 min – 1 hr
Upon arrival in Bangkok, receive a warm greeting from the guide and driver and transfer to the hotel.
In the early evening, be transferred to the meeting point at Hua Lamphong Railway Station and begin a street food walking tour in Chinatown, which is internationally renowned for its street food. Along a tour of Chinatown's bustling backstreets, discover the raw energy of Yaowarat Street while learning about the area's history and sampling some of its best culinary offerings. Bite into various kinds of food, from famous Chinese dumplings to peppered pork noodles, Chinese donuts, and more. End the street food feast on a sweet note with unique Thai-Chinese desserts and visit a tea shophouse.
After the tour, enjoy a cool cocktail at Samsara Bar and Restaurant, a nightlife hotspot with great views of the Chao Phraya River.
Overnight in Bangkok.
2
Bangkok
After breakfast at the hotel, start the day visiting the Royal Grand Palace, Bangkok's number one 'must-see' attraction as well as Thailand's most important landmark. Our guide will take you on an in-depth journey through Thailand's history and royal heritage. You will be awed by the grandeur and majesty of the building and its throne halls. The palace is nowadays used only for occasional ceremonial purposes by the Royal Family. And of course, marvel at the mysterious Emerald Buddha, the most revered Buddha image in Thailand, resided in Wat Phra Kaew which adjoins the Grand Palace in a common compound. (Note: Grand Palace is one of the most popular destinations and is usually a number one must-see place in Bangkok. Not surprisingly, it receives millions of tourists annually. To get the best of your visit and avoid crowds on spot we will allow your guide flexibility to visit the temple either early morning or late afternoon if possible in your itinerary. If you by any means decide that there are too many people for your liking, the guide can bring you to an alternative temple in the area such as Wat Saket or Wat Suthat, this decision needs to be made before entering the Grand Palace.)
Lunch is served at Err Restaurant, a place with an urban rustic Thai experience.
After lunch, visit Wat Pho - Bangkok's oldest temple and arguably it's most impressive. Home to the magnificent 45-meter-long reclining Buddha. After that, join the Thai massage training at the temple's massage school. The course is designed for people who are interested in learning the right way of using their hands to provide the relaxation of body and brain to another person. The three-hour training will teach guests the way how massages work on the body and soul as well as massage techniques. Learn about the energy lines of the hands, arms and shoulder, and how to apply the correct pressure points.
In the evening, it is now their turn to get a massages themselves. Transfer to a hidden small massage place, Perception, located in one of Bangkok's CBD. Here is a special and unique massage place as guests will receive a relaxing massage by trained blind masseurs. 
Overnight in Bangkok.
3
Bangkok
After breakfast at the hotel, go exploring the flavors, spices and aromas of the city's Village of Love—the historic Bangrak neighborhood. Experience how the locals live, eat and shop as guests take part in unique local food tastings each packed with authentic history and intimate stories of the neighborhood.
Local experts have hand-picked food that is guaranteed to tickle their taste buds, and their intimate stories of Bangkok and Thailand's everyday culture will fill their minds with amazement.
In the early evening, transfer to the Golden Mount to have a top view of the old city and cycle down to Bangkok's main attractions. Cycling pass the Giant Swing, Wat Suthat and flower market area. Before the sunset, arrive to a peaceful park by the Chao Phraya River to watch as the sun goes down over the Temple of Dawn, with the golden spires of the Grand Palace illuminated behind. Continue cycling to the biggest amulet market at its closing time, and see more buildings that are in both Thai and European styles, including the iconic Wat Benchamabophit, the temple of the "Five-Baht" coins. Impress with the shimmering of Wat Ratchanada and Loha Prasat before drop-off for dinner at a local restaurant.
Overnight in Bangkok.
4
Bangkok - Kanchanaburi
Bangkok – Samut Songkhram (75.2 km): 1.03 hrSamut Songkhram – Damnoen Saduak Floating Market (20 km): 20 minDamnoen Saduak Floating Market – Kanchanaburi (115 km): 2 hr
Breakfast at the hotel.
Just a short drive from the bustling streets of Bangkok, the high-rise urban landscape dissolves into a lush green rural idyll. This full-day trip to Samut Songkhram and Ratchaburi Provinces, only an hour outside the capital, allows one to experience the traditional charms of Thai rural life and floating markets.
The day starts with a trip to a local railway station where a bustling country market has sprouted up along the tracks. When trains pull into the station,  vendors quickly clear their stalls, only to set them up again moments later after the train has passed! From here, the journey continues to Damnoen Saduak Floating Market. Although quite touristy today, the market remains one of Thailand's best traditional floating markets.
Take a relaxing paddle boat ride through the labyrinth of canals to see older parts of the floating market and local lifestyles along the canal. Afterwards, hop off the boat and take a stroll around the colourful floating marketplace on foot to check out a myriad of local vendors selling everything from fresh tropical fruits to handicrafts.
For visits falling on a Saturday or Sunday, the tour offers the option of visiting either Damnoen Saduak or the smaller and less touristy floating market, Tha Kha, where a short paddle boat tour in the backwaters offers a visit to an old Thai house making coconut palm sugar.
The day continues with a drive to Kanchanaburi. Stop to enjoy lunch at a local restaurant, situated near the famous bridge on the River Kwai, built by Allied prisoners of war during World War II. Visit Railway Museum and stroll through the historical lane in Pak Preak Community, laden with charming shop houses built during the reign of King Rama V before driving to the hotel.
Dinner is at the hotel.
Overnight in Kanchanaburi.
5
Kanchanaburi
Kanchanaburi – Elephants World (64.4 km): 1.25 hr
After breakfast at the hotel, set off on a memorable adventure for an amazing elephant experience. Depart from the hotel to Elephant World. Far from the buzz of the city, Elephant World is a located in a peaceful natural jungle landscape on the outskirts of Kanchanaburi.
Be greeted by the volunteers at Elephant World. Learn about the lives of elephants, the plight of many Thai elephants and the sanctuary's efforts to save these miraculous creatures. They will also provide a useful overview of the relationship between the elephants and their mahouts, or caretakers.
Then the adventure truly begins. Meet the elephants and join the mahouts as they go about the daily routine: foraging for food in the jungle, cutting sugar cane or gathering bananas. Then feed the elephants, a chance to get close to the mighty beasts and to see their amazingly agile trunks in action.
Return to the main camp for a lunch of freshly-prepared Thai food. Then return to the jungle where the elephants await their afternoon bath. Jump into the Kwai Yai River with the elephants, helping them to cool off with a good scrub. Then lead them deeper into the forest where they will spend the night.
Following this incredible encounter with Asia's beloved elephants, say farewell to the team at Elephant World and return to hotel.
Dinner is at the hotel.
Overnight in Kanchanaburi.
6
Kanchanabu - Ayutthaya
Kanchanaburi – Ayutthaya (230 km): 3.23 hr
Breakfast at the hotel.
Depart Kanchanaburi and head to Ayutthaya, the former capital of Thailand which dates back to the 14th century. Spend the morning exploring the breathtaking temple-studded landscape of Ayutthaya and visiting some of the ancient city's highlights such as Wat Yai Chaimongkol and Wat Mahathat (where a Buddha face protrudes from an old tree). Then, stroll through a local market before arriving at Wat Phra Srisanphet. Proceed on a trip to the town's Muslim Quarter which offers an opportunity to sample the unusual local delicacy, candy floss roti.
After lunch at a local restaurant, continue with a leisurely one-hour longtail boat ride down the Chao Phraya River. Beginning at Wat Niwet Thammaprawat, one of the area's most distinctive Buddhist temples featuring remarkable Gothic-style architecture and stained glass windows, take a cable car across the river and hop on a golf cart to explore Bang Pa-In Summer Palace - the majestic mansion of Thailand's Royal family.
In the evening, hop on a tuk tuk to see the spectacular twilight scene of the historical park at dusk.
Overnight in Ayutthaya.
7
Ayutthaya - Bangkok - Chiang Mai
Ayutthaya – Bangkok Suvarnabhumi Airport (101 km): 1.16 hrChiang Mai Airport – Wat Umong (7.4 km): 25 minWat Umong – Chiang Mai Hotel (15 km): 20 min
Breakfast at the hotel and then transfer the airport in Bangkok for a flight to Chiang Mai.
Upon arrival at Chiang Mai Airport, meet with the guide and drive towards the tranquil Wat Umong, which dates back to the 14th century and contains a network of tunnels and caves. Within this mysterious labyrinth, experience a unique private blessing ceremony.
Lunch at a local restaurant.
In the evening, enjoy a nice dinner at The Service 1921 Restaurant & Bar at the luxury Anantara Chiang Mai Hotel.
Overnight in Chiang Mai.
8
Chiang Mai
Chiang Mai – Wiang Kum Kam (7.4 km): 14 min
After breakfast, be transferred to Wiang Khum Kham for a nice cycling tour. While visiting local temples and markets, learn intimate details about Thai culture and the importance of Buddhism in "Thainess". Then, explore the ancient city of Wiang Khum Kham, which dates back to the 13th century. Lost for centuries after being buried by mud from the river, it was only recently excavated. While there, visit an ancient temple that is said to house the spirit of a former king.
Pass beautiful traditional teak wood houses and say hello to Thai fishermen along the Ping River. Then, stop for some fruit and a cool drink at a spacious grassy park before heading south to Ban Tawai, which is also known as the Village of Handicrafts -one of the largest handicraft markets in Thailand.
End the cycling tour at a leisurely pace while following the Ping River. The cycling distance is approximately 25 km on good quality flat tarmac roads. We stop often to refuel with water and fresh fruit. The morning tour ends at Wiang Khum Kham for a transfer back to the hotel for a bit of down time to relax.
In the late afternoon, get picked up at the hotel and transfer to a local Thai family's house in Hang Dong. This will be an unforgettable encounter that involves genuine cultural interaction while enjoying a home-cooked meal with a real Thai family. Help to select fresh ingredients needed for the meal and learn traditional techniques and skills used in the preparation of northern Thai cuisine before setting down to enjoy a family Khantoke dinner.
Overnight in Chiang Mai.
9
Chiang Mai
Chiang Mai hotel – Doi Inthanon National Park (60 km): 1.15 hr
Breakfast at the hotel.
Start the day heading towards Thailand's highest mountain, Doi Inthanon National Park, a spectacular land of mist-covered peaks, tropical forests, mighty rivers and majestic waterfalls. It is also a treasure trove of wildlife, with gibbons, deer, and wild boar roaming the hills and valleys, along with an incredible 383 different species of bird. Explore this ancient ecosystem with a full-day tour that takes guests from the bustling streets of Chiang Mai into seemingly remote mountains just a short distance away
The trip starts with a hike to a local Karen hilltribe village. Here, meet this colourful and friendly community and learn about their work at a local coffee plantation. The trek then continues for two hours along lush forest trails and across bamboo bridges, emerging at dramatic waterfalls. En route there will be plenty of opportunities to enjoy the natural scenery and take photos. The day ends with a trip to Wachiratharn Waterfall, one of the most spectacular sights in Northern Thailand, where 70-metre-high torrents crash into refreshing pools below. Picnic lunch included.
The evening starts at a local temple where monks gather for their nightly prayer chants. Take part in this deeply sacred ritual by lighting incense and candles -sure to be an unforgettable experience.
Afterwards, enjoy dinner at Rachamankha, with ancient Chinese-style architecture, it's the perfect environment to enjoy an exquisite selection of Lanna, Burmese and Shan cuisine. Then, head ot the colourful Waroros Market. This bustling night market is a hub of local life in Chiang Mai, with fresh food and flower stalls offering an intoxicating mix of sights, sounds and smells.
While here, sample some local Thai delicacies, and enjoy a sweet ending to an enchanting evening with a traditional Thai dessert.
Overnight in Chiang Mai.
10
Chiang Mai Departure
Chiang Mai Hotel – Chiang Mai Airport (4.7 km): 11 min
Breakfast at your hotel. Transfer you to the airport for your departure flight to your onwards destination.
Our Services include:
Accommodation in selected hotels.
Meals as mentioned (B= Breakfast, L= Lunch, D= Dinner).
English speaking guide.
Tours and transfers as mentioned by air-conditioned vehicle / public vehicle as mentioned.
Entrance fees for mentioned visits.
Tips for driver and hotel porters
Drinking water
Our Services do not include:
Other meals than mentioned.
Other services than mentioned.
International and domestic Flights.
Laundry, telephone calls and expenditure of a personal nature.
Travel insurance.
Not quite right or still need some more inspiration? Take a look at the journeys below and discover what other people who liked this tour also looked at!
De'Kashor Elephant Home Hilltribe Village ( Join )
Visit and stay overnight in a traditional Karen hilltribe village.
Learn secrets of elephant care from an experienced local expert.
Get up-close and personal with elephants while bathing them
Knowledge to the test while caring for
Bathing elephants in a beautiful natural environment.
Multisport - Ultimate Southern Thailand
Canoe down scenic Sok River
Kayak the mangroves of Ao Thalane
Cycle rural villages of Klong Thom
Snorkel around tropical islands
Taste iconic dishes of Krabi
Thailand-Myanmar Overland
WWII history of Kanchanburi
Visit Kamphangphet Historical Park
Nature at Lan Sang and Taksin National Park
Ancient pagodas and churches of Mawlamyine
Circle train ride through Yangon
Northern Thailand Multi-Sport Explorer
Indulge in traditional spa treatments
Swim and kayak at Mae Ngat Lake Reservoir
Visit Thailand's famous botanical gardens
Pick tea leaves and learn about the Lisu Hilltribes
Hike the monks trail up to Doi Suthep Mountain
Thailand - Hip and Chic Tour
Dine at Bangkok's chicest tables
Explore Chiang Mai by Segway
Discover Thai modern art
Relax on spectacular Phuket
Stay in stylish and hip hotels
Mini-Multisport Chiang Mai Adventure
Cycle over Mae Ngat Dam
Relaxing dip in 'Sticky Waterfalls'
Visit stunning Wat Ban Den
Trek and homestay at Huay Nam Dung
Cruise on a traditional bamboo raft