Discover the treasure trove of wonders that lie at the southern tip of Japan. After an in-depth look at UNESCO-heritage Kyoto, head to Shikoku Island to explore arts villages, pilgrimage trails and pristine nature. Then it's on to Kyushu Island where historic cities, ancient monuments and tranquil hot springs beckon.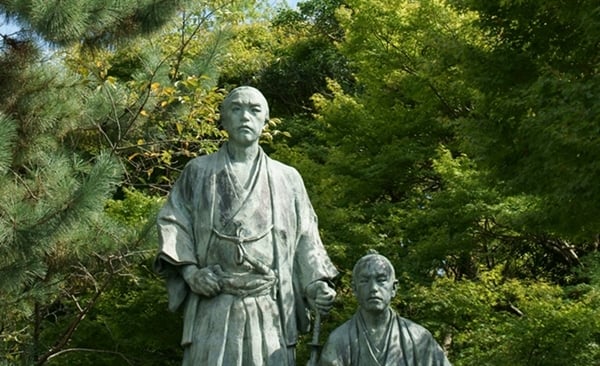 See Shikoku's cultural villages
Explore Edo-era heritage buildings in Shikoku village, the museums of Naoshima and the castle town of Takamatsu.
Discover Kyushu's vibrant towns
Visit Nagasaki, Fukuoka and Osaka, three towns on Kyushu Island where tradition and modernity go hand-in-hand.
Explore historic Nagasaki
Walk along cobblestone streets and admire the shop houses, churches, gardens and more that echo of the town's trading past.
1
Arrival in Kyoto
Kansai International Airport (KIX) to Central Kyoto: 2 h
Upon arrival to Kansai International Airport, our guide will be waiting to assist with transportation to the hotel in Kyoto (via shared shuttle van).
The rest of the day is at leisure.
Overnight in Kyoto
2
Kyoto, Cultural Experience
Today's activity can begin at 9:30, 12:00, or 14:30. Be immersed in Japanese culture with this insightful half day trip in Kyoto. Start with a visit to a machiya, a traditional wooden townhouse found throughout Kyoto. Take a tour of the beautifully restored house, learning about its architecture and history.
Then slip into a kimono, the iconic traditional Japanese garment. These full-length robes are worn by all Japanese when attending important events or formal occasions. Once appropriately dressed, meet with a local tea master for a traditional ceremony. Watch and learn as the master brews and services tea using slow, deliberate movements steeped in spirituality and ritual. Enjoy a cup of the bitter tea along with traditional sweet treats.
After the tea is finished, continue the cultural exploration of Kyoto. Enjoy an introductory course in origami, the Japanese art of paper folding. Under the guidance of a local artist, learn the secrets behind creating beautiful decorations and images with simple pieces of paper.
Wrap up the half day trip in Kyoto with new insights and a better understanding of Japanese culture. Return to the hotel or continue to explore Kyoto's charming streets.
Note: In case the sake brewery is closed, an origami class will be arranged instead.
The rest of the day is at leisure.
Overnight in Kyoto
3
Kyoto
Begin the day with a visit to Nijo Castle, an ornamental castle that was originally built to serve as the private villa of a powerful feudal lord. The main building was completed in early 1600s and has since then been known for its Momoyama-style architecture, decorated sliding doors, and "chirping nightingale" floors.
Next on the list is the serene Ryoan-ji Temple, which is famous for its well-maintained rock garden and known to be the home of the Myoshinji School of the Rinzai Buddhist sect.
Just a short distance from Ryoan-ji is the stunning golden pavilion collectively known as Kinkaku-ji Temple. The temple grounds are relatively smaller than that of most temples and shrines in Kyoto, but what is undoubtedly impressive is the pavilion that is completely covered in handmade gold leaf.
A visit to Kiyomizu-dera Temple follows later in the day. The view from the 13-meter high building is indeed breath-taking and the fact that this veranda was built without using any nails or joiners is quite unbelievable.
The tour ends with a stroll along the busy streets of Higashiyama district, a collection of narrow alleyways lined with local stores, souvenir shops, small eateries, and even pottery centers.
Note: Kiyomizu-dera is currently undergoing renovations, with proposed completion in 2019.
Overnight in Kyoto
4
Kyoto - Nagasaki
JR Kyoto Station to JR Takamatsu Station: 2 h
Today is a self-guided day.
Leaving behind Kyoto, begin the journey to Shikoku, one of the four main islands in Japan located between the Seto Inland Sea and the Pacific Ocean. Shikoku is a popular destination for pilgrimage tours and ecotourism, for its numerous temples and shrines, as well as valleys, gorges, and mountains.
The first stop is Takamatsu, the closest point in Shikoku to main Honshu Island. It flourished as a castle town during the feudal era and now serves as a gateway for tourists wanting to visit the neighbouring art islands such as Naoshima and Teshima.
Suggested Self-Guided Itinerary:
Leave luggage at the hotel and head to Ritsurin Park, one of the designated Special Places of Scenic Beauty in Japan. It is a 75-hectare property set against Mt. Shiun that features thirteen man-made hills, six ponds, oriental bridges, and a wide variety of trees and flowers such as the Crane and Turtle Pine Tree, the Evergreen Oak Tree, irises, and azaleas.
The park was originally built in the 1620s to serve as a private garden for the then leaders of Kagawa prefecture, the Ikoma Family, and after more than a century, the garden was completed and became the villa of the succeeding Matsudaira family. After the restoration of the Meiji era, it was opened to the public and has become one of the favorites of both locals and foreign tourists since then.
Take a break and have an afternoon tea at Kikugetsu-tei, a teahouse set right in the middle of the park. Spend a pleasant time with a cup of green tea and a view of Nan-ko pond.
Overnight in Takamatsu
5
Takamatsu, Optional Tour
Today is a self-guided day.
Spend the day exploring Takamatsu or taking part in one of the following day trips:
Suggested Self-Guided Itinerary (1):
Travel to Yashima, the so-called roof island of Shikoku. Visit the 5-hectare open-air museum of Shikoku Village that features the lifestyle of the locals between the Edo and the Meiji eras. It houses over twenty buildings, four of which are designated Important Cultural Properties, namely, the former Kono and Shimoki Residences and the processing facilities of sugarcane and soy sauce. There is also a kabuki theatre and a replica of one of the vine suspension bridges in Iya Valley.
Distance and journey time (approximation):
JR Takamatsu Station to JR Yashima Station: 10 min *via limited express train
JR Yashima Station to Shikoku-mura: 15 min (walk)
Suggested Self-Guided Itinerary (2):
Alternatively, take the ferry to one of the following art islands that are always featured in the Setouchi Triennale festival:
Naoshima
Naoshima is a small art island where you can find contemporary museums and artworks such as the Chichu Art Museum, the Lee Ufan Museum, the Art House Project, the Ando Museum, and Yayoi Kusama's red and yellow pumpkins.
Distance and journey time (approximation):
Takamatsu Port to Miyanoura Port: 50 min
Teshima
Teshima, a rural island in the Seto Inland Sea, with uncountable rice paddies and stunning coastlines, is mostly known for its exhibitions of contemporary art. In past years, both locals and foreigners have come to the island to visit the Les Archives du Cœur, the Teshima Yokoo House, and, last but definitely not the least, the magnificent architecture of the Teshima Art Museum.
Distance and journey time (approximation):
Takamatsu Port to Ieura Port: 35-50 min
Shodoshima
Shodoshima, the second largest island in the region, is known as the birthplace of olive production in the country. Unlike its neighboring islands, it features not just its galleries but also its nature and pleasant climate, attracting both art enthusiasts and travelers who want to experience a Mediterranean-like atmosphere. Main attractions on the island include the Olive Park, the Kankakei Gorge, and the Angle Road. Access to the island can be via one of the 2 main ports, Tonosho or Kusakabe, and getting around by rental car is the most convenient option.
Distance and journey time (approximation):
Takamatsu Port to Tonosho Port or Kusakabe Port: 60 min
Note: Ferry schedules may change without prior notice; fees are to be paid on spot.
Overnight in Takamatsu
6
Takamatsu - Kotohira
JR Takamatsu Station to JR Kotohira Station: 75 min
Today is a self-guided day.
Before noon, get on the local train to Kotohira, the quiet town in Kagawa famous for its mountain temple.
Suggested Self-Guided Itinerary:
After leaving the luggage at the ryokan, start the hike up Kompira-san, a Shinto-and-Buddhist complex that holds the main shrine for the Shinto god of seafarers. Situated along the slopes of Mt. Zozu, the shrine can only be accessed via a long and steep staircase with 1,368 stone steps in total. Most visitors only make it up to the main hall (after 785 steps), but for those who would like to see the inner hall, a remaining 583 steps would be needed (approx. 45-minute hike).
Tonight stay at a ryokan, a traditional Japanese-style inn furnished with low tables and chairs, sliding shoji doors, and tatami flooring. The open-air hot spring baths in the ryokan have a view of Mt. Kompira.
Overnight in Kotohira
7
Kotohira - Matsuyama
JR Kotohira Station to JR Matsuyama Station: 75 min
Today is a self-guided day.
From Kagawa, head to Ehime prefecture on the northwest of Shikoku. Ehime is known for its cycling tours, pilgrimage routes, and hot spring resort.
Optional Luggage Service:
Upon arriving at the station, send the small luggage to the accommodation in Dogo Onsen. This service is available from 10:00 to 14:30, and luggage is expected to arrive at the hotel/ryokan around 17:00 (fee to be paid on spot).
Suggested Self-Guided Itinerary:
Start the sightseeing with a visit to Matsuyama Castle, one of the only twelve remaining original castles in Japan. With around 200 cherry blossom trees, the castle grounds serve as a good spot for sakura-viewing in spring. It is located on top of Mt. Katsuyama, offering a panoramic view of the city and the nearby Seto Inland Sea, and can be accessed via ropeway or chairlift.
Later in the afternoon, stop by the Dogo Onsen Honkan, a large, wooden facility that is already more than a century old. It is said that one of the settings in the award-winning film "Spirited Away" by Hayao Miyazaki was based from this public onsen.
After a soothing bath, stroll around the resort, passing through the lively shopping arcade just across Dogo Onsen Honkan.
Overnight in Matsuyama
8
Matsuyama - Okayama
JR Matsuyama Station to JR Okayama Station: 2.5 h
Today is a self-guided day.
Leave Shikoku behind and head to Okayama, a worthwhile detour for the journey to Kyushu.
Suggested Self-Guided Itinerary (1):
This morning, visit Ishite-ji, the 51st post temple along the Shikoku Pilgrimage route. Ishite-ji is claimed to be the most impressive temple among the 88 Buddhist temples in Shikoku, with its Niomon entrance gate and its curious looking inner shrine.
Distance and journey time (approximation):
Dogo Onsen to Ishite-ji Temple: 20 min
Shortly before noon, catch the train to Okayama, the prefecture in Honshu that is closest to Shikoku and is famous for its historical attractions and pleasant weather.
Suggested Self-Guided Itinerary (2):
Leave luggage at the hotel and take the short train ride to Kurashiki, the second most populated city in Okayama. During the Edo era, Kurashiki had served as the hub for storing rice and other local produce in the region, which justifies its name that literally means "warehouse village."
Nowadays, Kurashiki is frequented by local and foreign tourists for its well-preserved old houses, depots, and canals, which can all be found in the nostalgic Kurashiki Bikan and Canal Area.
Distance and journey time (approximation):
JR Okayama Station to JR Kurashiki: 15 min
Overnight in Okayama
9
Okayama - Kumamoto
JR Okayama Station to JR Kumamoto: 2.5 h
Today is a self-guided day.
It's time for the scenic journey to Kyushu, the third largest island located in the south-westernmost part of Japan.
Suggested Self-Guided Itinerary:
Before catching the bullet train around noon, spend the morning visiting Okayama Castle, which is also known as the "Crow Castle" for its black exterior. Inside the castle grounds the Tsukimi-yagura Towe can be found, which was used to defend the castle and now serves as a venue for cultural events such as moon watching during the annual Mid-Autumn Festival.
From the castle, proceed to Koraku-en Garden, known as one of the Three Great Gardens of Japan and a designated Special Place of Scenic Beauty. Inside the garden, a couple of teahouses and rest houses can be found, as well as well-maintained landscapes and ponds, and even a paddock and archery range that used to be the training area for the military.
In the afternoon, catch the train to Kumamoto, located on a plain surrounded by Ariake Sea on the west and the Kyushu Central Mountains on the left.
Overnight in Kumamoto
10
Kumamoto, Optional Excursions
JR Kumamoto Station JR Beppu Station: approx. 2.5 hr
Today is a self-guided day.
Today, choose to enjoy the day at leisure, exploring central Kumamoto on foot or with the use of its tram to see Kumamoto Castle and Shuizen-ji Joju-en Garden. For those interested in nature, we suggest an excursion outside the city to the Mt. Aso area.
Suggested Self-Guide Itinerary (1):
If the weather is nice, this is a great chance to do some trekking. Get an early start and travel by train to Mt. Aso, a small rural town surrounded by five peaks, namely, Kishima-dake, Eboshi-dake, Naka-dake, Taka-dake, and Neko-dake.
Note: Due to volcanic activity, access to the caldera,  the hiking & trekking paths, as well as the Volcano Museum are closed and the operations of the Mt. Aso Ropeway is suspended  Alternative itinerary will be provided that can include the following (for other preferences, please let us know).
National Park Aso Daikanbo
This is the ideal starting point for a trekking on Mt. Daikanbo, the perfect spot from where the five peaks in Aso can be viewed. There are also shops and restaurants/cafes in the park, offering nice refreshments before or after the trek/hike.
Aso Shrine and surrounding shopping arcade
Aso Shrine is one of Japan's many Shinto shrines and has around 2,500 years of history. Strolling around the shrine, visit traditional shops and taste the "prized water" from one of the 20 fountains and water sources in the area.
Distance and journey time (approximation):
JR Kumamoto Station JR Aso Station: 70 min
*use of local taxis or buses is needed to access the tourist spots
Suggested Self-Guide Itinerary (2):
Alternatively, visit the onsen town of Beppu to see the nine Jigoku ("hells"), unique hot springs that are only good for viewing and not for bathing due to their extreme temperatures. Located here are red, blue, and white jigoku, even a hot spring with crocodiles in it.
Distance and journey time (approximation):
JR Kumamoto Station JR Beppu Station: 2.5 h
*use of local buses is needed to access the tourist spots
Overnight in Kumamoto
Note:
The inner grounds of Kumamoto castle will be closed to the public, due to the severe damages caused by the April 2016 earthquake. 
Some roads may not be accessed due to the damages caused by the April 2016 earthquake.
11
Kumamoto - Nagasaki
JR Kumamoto Station JR Nagasaki Station: 2.5 h
Today is a self-guided day.
The next destination in Kyushu is the historically important city of Nagasaki. Aside from its tragic past, Nagasaki is also known for being the centre of Portuguese, Dutch, and other European influences from the 16th to 19th century.
After leaving luggage at the hotel, start exploring this interesting city.
Suggested Self-Guided Itinerary:
Head to Minami-Yamatemachi to visit the Oura Church or the Glover Garden or stroll through the cobblestone streets that are lined with souvenir shops. Walk all the way up the Dutch Slope, a place of hills rising from the deep, U-shaped harbour of houses perched on terraced slopes and of small streets and distinctive neighbourhoods.
In the evening, travel to the top of Mt. Inasa for one of the best night views in the world. Alternatively, visit the oldest Chinatown in the country to sample some of the regional dishes including the famous Nagasaki chanpon, a noodle soup with heavily influenced by Chinese cuisine.
Overnight in Nagasaki
12
Nagasaki - Fukuoka
JR Nagasaki Station to JR Hakata Station: 2 h
Today is a self-guided day.
Before continuing the journey to the vibrant port city of Fukuoka, visit a couple more places in Nagasaki.
Suggested Self-Guided Itinerary (1):
Visit the Nagasaki Peace Memorial Park and Museum, where monoliths and monuments serve as a gentle yet powerful reminder on the destructive effects of war.
Around noon, get on the train to Hakata Station, the main train station in Fukuoka that is surrounded by modern shops, commercial buildings, and hotels.
Suggested Self-Guided Itinerary (2):
In the afternoon visit Shofukuji Temple, the first buddhist temple in Japan. The Buddhist priest Eisai, who first brought Zen Buddhism from China to Japan founded this temple in the year 1195.
In the late afternoon, continue to Nakasu Island and sample some of Fukuoka's delicious street food at one of its yatai or open-air food stands, which can be found lined up along the river. Some of the local delicacies such as Hakata ramen, gyoza, and motsunabe (hot pot dish) can be tasted here.
Overnight in Fukuoka
13
Fukuoka
Today is a self-guided day.
Suggested Self-Guided Itinerary:
Start with a morning visit to Kushida-jinja, the most important shrine in the city as the annual Hakata Gion Yamakasa Festival is centered on it.
Next continue to the busy Yanagibashi Rengo Ichiba Fish Market, which has its origins in 1916. That year, a single merchant opened his stall and started selling fresh fish. As he began attracting more and more customers, other merchants started to settle-up next to him and it eventually became the bustling market you can see today.
Afterwards, head to Ohori Park, located at the heart of Fukuoka and appreciated for its beautiful pond and quiet environment.
In the evening, we suggest visiting Fukuoka Tower, standing 234 meters tall and offering great views of the city, the shores of Momochi Seaside Park, and the islands nearby.
Alternatively, you can check out the stores in Tenjin or at the Canal City shopping mall, for some last-minute shopping.
Overnight in Fukuoka
14
Fukuoka - Osaka
Fukuoka Station to Shin-Osaka Station: 2.5 h
Spend the morning at leisure in Fukuoka before catching the bullet train to Osaka around noon.
This evening, participate in a unique food tour for an introduction to Osaka's cuisine. There is no better place in the country to experience the flamboyant and colourful world of Japan's street food and nightlife scene than in Osaka. The city's motto is 'kuidaore' or eat-till-you-drop, and just one visit shows that it's not very difficult to do this!
Locals are particularly proud of their famous soul-food offerings, such as Okonomiyaki (savoury cabbage pancake with pork), Takoyaki (savoury ball-shaped pancakes with octopus), and other local delicacies. Osaka also offers one of the most authentic experiences when it comes to spending a night out, thanks to the city's warm-hearted and curious inhabitants.
Meet the food expert in front of Starbucks Tsutaya Ebisu-bashi in Dotonbori and enjoy about 4 different venues during the tour.
Start the experience by discovering Osaka's best-loved dishes in one of the liveliest areas in town, with innumerable little shops, restaurants and tiny taverns and bars. Alongside our local English-speaking food expert, enjoy the bright neon lights of one of the main entertainment areas in town before diving into some narrow, hidden alleyways to discover all the local delicacies Osaka has to offer.
With the help of the guide, taste some of the staples of Osaka's soul-food such as fresh Okonomiyaki, prepared on the spot, and Takoyaki, which have been featured in the Michelin guide. Continue the gourmet journey with fresh sushi and a local brew, plus the opportunity to interact with the sushi chef. To conclude the tour, stroll through the neighbourhood with its uncountable tiny bars, each with their very own distinctive style.
Overnight in Osaka
Time:
Start: 16:00
Duration: 4 h
15
Departure from Osaka
Namba Station to Kansai Airport: 45 min *via express trainNamba OCAT bus stop to Kansai International Airport: 50 min (shuttle bus)
The rest of the day is at leisure until the scheduled transfer by train or shared shuttle bus to Kansai International Airport.
Our Services Include:
Hotel accommodation in twin room with daily breakfast (for ryokan, minshuku, and other traditional accommodation, rooms are Japanese-style with futon and meals are half board).
Meals as mentioned in the itinerary (B = Breakfast, L = Lunch, D = Dinner).
Meet and greet at the airport and return transfers to the airport.
14-Day Japan Rail Pass in ordinary class (activated on Day 2).
PASMO Transport Pass at a value of 3,500 JPY for Days 2 and 14.
English-speaking guides for tour in Kyoto (Day 3) (for other languages, supplementary charges apply).
All entrance fees and public transportation fees as mentioned in the itinerary on Days 3.
Cultural experience in Kyoto on Day 2.
Osaka food tour on in Osaka on Day 14.
Information Pack.
Our Services Do Not Include:
International and domestic flights (quoted separately).
Some local transport (e.g. some local city buses, taxi transfers, etc.).
Meals other than mentioned above.
Personal expenses (e.g. drinks, laundry, telephone, and other expenditures of a personal nature).
Travel insurance (please see below).
Other services not clearly indicated in the package inclusions above.
Not quite right or still need some more inspiration? Take a look at the journeys below and discover what other people who liked this tour also looked at!
Sunrise From Fuji's Summit
Travel to Fuji 5 Lakes Area
Hike with English-speaking guide
Overnight on Mt. Fuji
Witness sunrise from Mt. Fuji
Explore Mt. Fuji's crater
Okayama's Hidden Treasures
Explore Okayama Castle
Visit ancient Achi Shrine
Discover Kurashiki's heritage
Wander through Korakuen Garden
Admire art at Ohara Museum
Central Japan and the Alps
Western Japan Multi-Activity Adventure
Discover ancient routes of Nakasendo Walk
Explore UNESCO town of Kyoto on bicycle
Learn about iconic art & architecture of Naoshima
Trek up Mount Aso with stunning views of the region
Visit the famous Shiratani Unsuikyo Ravine of Yakushima Island
See Kyoto's UNESCO sites
Be captivated by vibrant Tokyo
Explore Hakone's natural beauty
Stay in an authentic local inn
Join an authentic tea ceremony
Enjoy private guided excursions
Partake in a traditional wedding
Dine in the company of a geisha
Relax on Ishigaki Island's beach
Stay in the shadows of Mt Fuji
For most adept outdoors enthusiast
Brimming with adventure
Time for deep relaxation
Savor locally home made delicacies
Explore this UNESCO Heritage Site!